Our Promise
We make all our products in small batch with LOVE. It takes 7-10 days to ship all items. Trust us, it is worth the wait.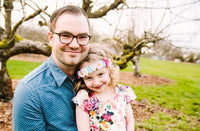 About Wildly Alaska
Wildly Alaska puts pure and natural ingredients into every product we have. We are here to give your skin, beard, and hair a truly Alaskan experience.
Founder John Quick and his daughter imagined this brand together, and they stick by every product they have.
Location
Wildly Alaska
Please contact us at:
Support@wildlyalaska.com